Estate Auction

Highland, In.

Sunday August 27, 2017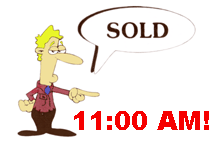 (Doors open @ 11AM)
LOCATION:
2909 43rd St. Highland, In.
PLEASE WATCH FOR SIGNS.

* Furniture *

Gone with The Wind Oil Lamp Not Electrified
( 2 Oil Pots: J Dardonville, N.Y., & American Lamp World's Fair)
Reclining Sofa & Love Seat
Dressers
Tables
Lamps
Paintings & Prints
Day Bed
Old Wood Chairs
Folding Rocking Chair
Roll Top Desk
AND MORE!
* Collectibles & Glassware *
Vintage Toys:
Wood Fisher Price Donald Duck Pull Toy
Old Wood Pull Toys
Dolls ( Porcelain & Composite, Crissy and more) & Furniture
Tin Toys
G.I. Joes with Accessories
Fire Trucks
Lionel Train in Box
Hot Wheels & Match Box
Marbles
Ephemera: Rare !! Hand Tinted Photo of Theodore Roosevelt Family ( Pach Bros. )
Vintage Paper Dolls
Magazines
Books
Civil War Print
Old Maps and More.
Knights of Columbus Sword
Early Times Glass Barrel
Hump Back Trunk
Children's & 45 RPM Records
Costume Jewelry
Celluloid Vanity Sets
Military
Franchi 12 Ga. Shot Gun
Snoopy Collection
Dress Form
Stereo Optic
AND MORE!
* Household & Misc *
Room Full of Craft Items
Old Tools
AND MORE!
*Estate of Janice & Ray Hansen*

* AUCTIONEERS NOTE *

As an auctioneer Jan and Ray attended many auctions and brought home many treasures. We were privileged to conduct and auction several years ago when they had passed away. Now the family says it's time to clean out the house and see what's in all the boxes. Pictures are only a small sample of what's there.
Please view our Photo Gallery for pictures and as always, please check back for updates.
* THIS IS ONLY A PARTIAL LIST!!!! *

Terms: We Accept Cash, Checks, and Credit Cards with 3% User Fee.
Not Responsible for Accidents or Items once they are Sold.
Phone and Absentee Bids Accepted.

Bartos Auction Service

Mike Bartos #AU09000162

Telephone (219) 680-8853

*WE BUY & SELL*

*ANTIQUES *ESTATES * LIQUIDATIONS * MOVING SALES * CLEAN OUTS *